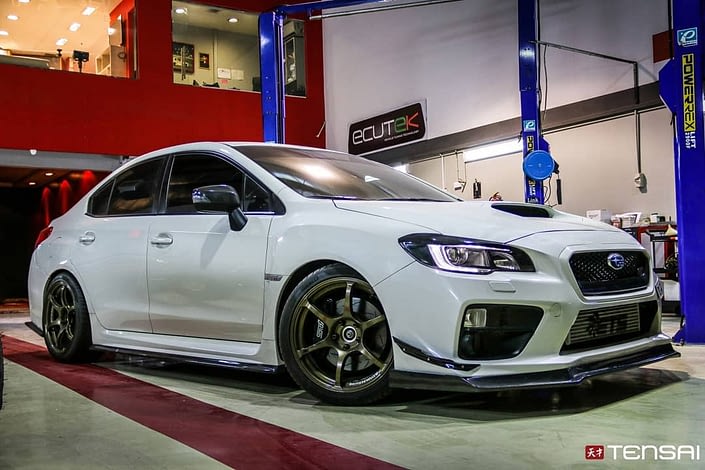 The fastest Subaru WRX STI (street-legal) in the world
The fastest Subaru WRX STI (street-legal) built by Tensai ( United Arab Emirates ) took a quarter-mile run in 8.9 seconds, starting from 0 to 60 mph almost in 1.9 seconds, making it the fastest street-legal modified  Subaru STI in the world so far.
The racing heart of the fastest Subaru STI is a 4-cylinder modified Boxer engine with a giant turbo generating  875 horsepower that connects with a triple clutch sequential gearbox, combined with a giant cooling system installed in the front of the car in addition to the latest ECU electronic control systems from the MoTeC M1.
This highly modified sports car has a new engine block (Willall Stage X 2.5L Subaru Billet Aluminum Short Block) based on improved materials and metals that can withstand a tremendous amount of pressure, strength, and very high heat. The engine head was also adjusted, and a fully modified fuel system was obtained from pumps and large-sized sprays to accommodate the possible combustion. The Subaru STI Tensai also has also modified pistons, shafts, modified Crankshaft, and cylinder heads.
The world's fastest Subaru STI has a bonnet and a carbon fiber rear cover and has also been fitted with lightweight metal tires.
The total cost of modifying this Subaru STI exceeded US $ 60,000, or AED 250,000, of course excluding the price of the car;).
Estimated prices of some modification parts:
Credit: ARABGT.COM