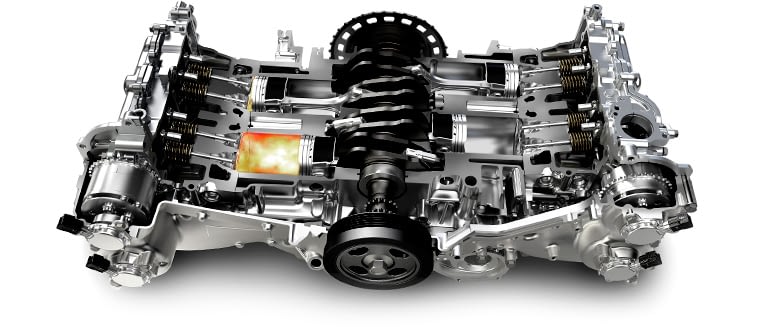 Subaru Boxer Engine Technology
The SUBARU BOXER engine, which powers all Subaru vehicles, is known for its excellent balance, smooth ride, and superior power delivery – for almost 50 years. The horizontally opposed cylinder configuration provides a low center of gravity, which contributes to balanced handling, cornering, and stability, regardless of the type of pavement.
In addition, this engine is intrinsically more compact, docile and responsive, and transmits power directly to the drive system with maximum efficiency.
Subaru offers a range of variations of this engine – four or six-cylinder, atmospheric or supercharged – suitable for various driving styles and drivers. Percutant, you will surely agree.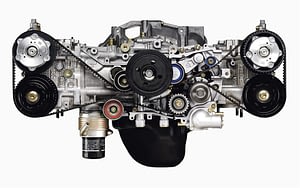 2.5-liter Turbocharged Flat-4
Available in 227, 265, and 305-horsepower versions, this turbocharged, intercooled 4-cylinder engine provides maximum power for exhilarating performance.
Available on: WRX STI
---
2.0-liter Flat-4
Available in 152, 200, and 205 horsepower versions, these 4-cylinder engines combine capable power, lightweight design, and exceptional efficiency.
Available on: BRZ, Impreza, and Crosstrek
---
2.0-liter Flat-4
With greater displacement than the 2.0-liter SUBARU BOXER, the 2.5-liter SUBARU BOXER is available in 175 and 182 horsepower versions, offering greater response while maintaining a focus on smooth power and efficiency.
Available on: Legacy 2.5i, Outback 2.5i, and Forester models
---
2.0-liter DIT engine
This engine leverages the power of turbocharging and the efficiency of direct injection to provide powerful acceleration, strong low-end response, and impressive fuel economy.
Available on: WRX
---
3.6-liter Boxer Engine
The largest SUBARU BOXER engine available, this 6-cylinder engine uses the Dual Active Valve Control System (DAVCS) to deliver smooth, powerful performance. It's the most refined SUBARU BOXER available.
Available on: Legacy 3.6R and Outback 3.6R models
---
Horizontal layout
The SUBARU BOXER engine derives its name from the reciprocating motion of the pistons, arranged symmetrically in a 180-degree angle, facing each other on a horizontal plane. This configuration induces considerably less vibration than conventional design engines. In addition, the engine is aligned in the axis of the drive system, to ensure optimal transfer of power. Many motors adopt a transverse or perpendicular mount, which requires the addition of components to transfer power, which increases complexity and decreases efficiency.
Balanced weight distribution and low positioning
[irp posts="3348″ name="Subaru Recalls 640K Vehicles for Issue That Can Increase Risk of Crash"]
The horizontally moving pistons provide the SUBARU BOXER engine with a flat, low profile, which favors a lower center of gravity of the engine compared to other types of engine, as well as the vehicle as a whole. On another side, this engine is also lighter, better balanced and more compact and offers a smaller overhang than conventional line engines. With these features, Subaru vehicles enjoy fundamentally more responsive, safer and more stable handling, faster maneuverability and better cornering.
Advantages of the SUBARU BOXER engine
Sharper maneuverability
The ultra-low center of gravity improves cornering stability, contributing to more comfortable ride handling, more responsive handling and better avoidance capabilities.
Smoother acceleration
This type of engine is compact, lightweight and symmetrically positioned and low in the chassis, to ensure a more fluid and direct power output.
[irp posts="3355″ name="A Strong Mother Wins a $35K Subaru by Standing for 75 Hours"]
Better efficiency of performance
The pistons move side by side, a configuration better balanced by nature, so they induce less vibration, generate better performance and reduce the wear of moving parts.