Subaru Technica International (STI), Subaru's motorsports control company, announced on January 15, 2019, at the North American International Auto Show (Detroit Motor Show, Duration: January 14 – 27, 2019) High-performance model "Subaru STI S209" was released to the world for the first time.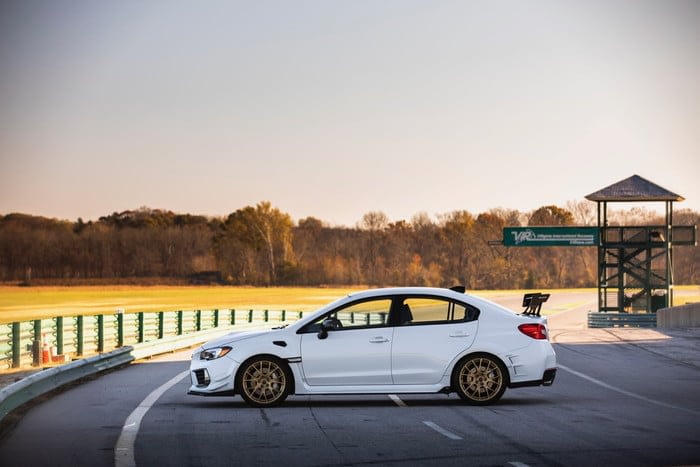 This time S209 is based on "Subaru WRX STI" STI developed a dedicated engine and foot around, complete car added interior and exterior equipment as well. It is said that STI improves performance considerably with respect to the base model in order to realize "ideal" speed which can be manipulated by the driver.
As the STI tuned model for the United States, it is the third volume next to "WRX STI type RA" and "BRZ tS" released in 2018. It is the first time for STI Complete Car's highest peak "S series".
Based on the 2.5 liters "EJ 25" unit dedicated to WRX STI (US model car), the Boxer engine carried out exclusive tuning so that you can step on the accelerator pleasantly in every situation with peace of mind. By adopting highly efficient air intake system, exclusively developed large diameter turbocharger, exclusively designed low back pressure muffler with large caliber tailpipe, dedicated ECU, etc…
The highest output of the successive STI model top is 341 hp (development target Value). In addition, by installing an intercooler water spray, reliability as a mass production engine was ensured by a forged piston and a forged connecting rod of exclusively design while suppressing performance deterioration due to heat.
Around the foot, BBS made 19 inch forged wheels made of Dunlop 265 / 35R 19 high grip tire with the largest width in successive STI models, Bilstein damper exclusively developed, special coil spring, reinforced bush is adopted.
Furthermore, in addition to STI's own flexible parts such as strut tower bar and draw stiffener, carbon roof which is lightweight and enhances car body rigidity is adopted. In addition, the exclusive wide body with over fender is fitted with aero parts that enhance downforces such as front under spoiler, front bumper side canard, and dry carbon large rear wing.
S209 will be released in the United States within 2019. Body color is WR Blue Pearl (Wheel color: Matt Gray), Crystal White · Pearl (same: Matte gold) are available in two colors.
Subaru STI S209 Specs:
STI S209 Mechanism
STI made Bilstein Front strut (inverted type) & coil spring
Bilstein Rear Damper & Coil Spring made by STI
STI made BBS 19 inch × 9.0 J forged aluminum wheel
Dunlop 265 / 35R19 tire
Brembo front and rear ventilated disc brake (front: opposite 6 pots, back: opposed 2 pots, silver paint, STI logo, STI performance pad)
STI Flexible Tower Bar Front
S209 STI Flexible Draw Stiffener (Front / Rear seat back)
S209 Sti made pillow ball bush · rear suspension link (before and after the lateral link)
STI S209 made support front
Forged piston
Forged connecting rod
Reinforced valve spring
Reinforced clutch
Large capacity injector & fuel pump
Dedicated low pressure loss intake duct
Large air cleaner & exclusive air cleaner box
Large diameter intake pipe
Low pressure drop duct boots
Large diameter turbocharger
Low backpressure performance muffler (with STI logo)
Dedicated ECU
Performance shroud
Intercooler water spray (with paddle switch)
Motor made 5W-40 engine oil
Engine solenoid bracket (with serial number)
VDC (Vehicle Dynamics Control)
Active torque vectoring
STI made short stroke gear shift lever
Subaru STI S209 Dashboard
Luminescent meter (with a multi-information display, with STI logo)
Multifunction display (with STI logo welcome screen display)
Instrument center visor (leather-like material winding + silver stitch)
Ultra suede rolled steering wheel (STI logo with ornament, silver stitch)
STI made push engine switch (STI logo included, red type)
STI binding leather winding MT shift knob (STI logo included, black) and shift boots (silver stitch)
Subaru STI S209 Audio System
6 speakers (front 4 points + rear 2 points)
Starlink 7.0-inch multimedia audio
Black colored roof antenna (Shark fin type)
Subaru Sti s209  Interior
Recaro front seat (silver stitch + silver accents, STI logo + S209 logo, SRS side airbag, with seat heater)
Silver stitch + Rear seat with silver accents
Instrument panel decorative panel (red, S209 logo included)
Side sill plate (S209 with logo)
Door armrest (Silver stitch)
Center console decoration panel (silver stitch)
Serial number plate (console)
Sub trunk (with tire puncture repair kit)
Subaru STI S209 Exterior
Mesh type front grill (cherry red stripe, with S209 ornament)
Front under spoiler
Side under spoiler
Rear side under spoiler
Bumper side bezel (with steel mesh & chrome plating decoration)
Bumper side canard
Wide fender (front + rear)
A front fender air outlet
Side garnish with S209 logo
Rear bumper (cherry red stripe, with air outlet grill)
S209 Rear ornament
Dry carbon roof
Black colored door mirror
Dry carbon rear spoiler (with S209 logo)
Main Subaru STI S209 specs
Dimensions/Weight
Overall length/width/height
181.9 × 72.4 × 58.1in.
Tire tread F/R
60.8in. / 61.2in.
Road clearance
4.9in.
Curb weight
3485 lb.
Engine
Type
EJ25 horizontally opposed four-cylinder
Max. output (net)
341 hp
Fuel tank capacity
15.9 gal
Fuel type
Unleaded premium gasoline